Is adding a rear seat to a golf cart even possible? An understandable question. Most times when we've been to the golf course and have seen the fleet of carts, they typically come equipped with a single row of seats for you and the passenger, then the rear section is dedicated to managing your clubs, shoes, adult beverages, etc. Answer: Absolutely. In fact, 99% of the time, when we build our custom Boulevard Carts, it's the first line-item to accomplish. There's nothing better than having the ability to add a couple of extra riders, whether it's for family, friends, or colleagues. But don't you lose functionality to carry additional cargo?
In this article I'm going to break down a few things: Choosing a the right rear seat (also known as a "Flip Seat"), the benefits or contrasts to having your seats installed by a professional or doing it yourself, and carrying additional cargo with 4 passengers.
CHOOSING A FLIP SEAT / REAR SEAT
When it comes to adding a rear seat to a golf cart there are plenty of options. (Probably too many, to be honest.) The most important thing to keep in mind is understanding what functionalities you absolutely need. Some rear seats have provisions for seatbelts, coolers, some foot rests flip up (helping shorten the length of the cart to fit on some trailers). Some seats are aluminum, some steel, and some have lots of plastic involved.
As I mentioned before, it's important to know how you intend to use your cart. Will you be using it to cruise the local community, campsite, neighborhood, etc.? Or you need something built for durability for excessive wear and tear – Maybe you're using it for hunting and you'll be out in a variety of weather conditions.
Highly recommended is a flip seat. The flip seat cushions can be customized to your liking and add an immense amount of functionality. Once flipped open, it turns into a durable surface area to load and store belongings. (refer to video) Even some flip seats come with a cooler/storage cubby.
We have a strong relationship with Lazy Life Seats & Covers. They have been in business for nearly 50 years and they create some of the most unique, high quality, and comfortable seats that we've installed. If you're restoring a cart to it's original condition and trim, that is an option! If you're airing to the side of more personalization and want to go nuts, they offer a long list of materials, quality of materials, colors, contrasting stitching, armrests, headrests, etc.
The Lazy Life catalog can be found here: Click Here
Of course, like most things that are popular and high in demand, your patience is necessary. Orders can take upwards of 3-4 months, but it's well worth the wait. Most clients place their order around the holidays and are enjoying their custom seats by the spring.
PROFESSIONAL INSTALLATION OR DIY INSTALLATION
Should you be adding a rear seat to a golf cart yourself or have it done professionally? Are you handy? Do you have the right tools? Are you patient? It's really up to you!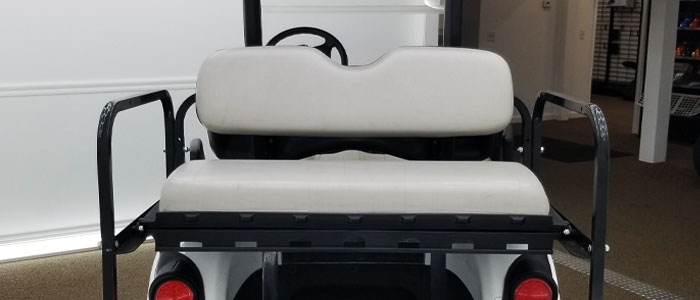 Professional Installation – We don't know about the next guy, but we charge $150 to install rear seats (it's no secret) and most can be done in less than an hour. We do enough of them regularly that it's second nature and we guarantee our work. Meaning, when your cart leaves the service bay, it's 100% ready to go.
DIY Installation – The typical installation time is between 60 minutes and 90 minutes. This will dramatically depend on your level of comfort with reading installation instructions and familiarity with working on your cart.
CARRYING ADDITIONAL CARGO WITH PASSENGERS
If you're getting into the custom golf cart hobby, the first thing most owners do is wheels, tires, suspension, and flip seat. But the next question I get all the time is, "If I'm at full capacity with passengers, where do we store our cargo?"
Some cheaper seats (specifically for Club Car Precedent) retain what they called the "sweater basket" Behind the front seat. Those are usually cheaper seats, and personally, I really don't like them. The rest of your general flip seats let you still use the bag well underneath it, but some offer a cooler Insert that you can store things inside as well.
Other available options to extend the versatility of transporting cargo while hauling a full load of passengers are the following:
Front Baskets –
Front baskets are perfect for those that hunt or need to get around the farm, but have miscellaneous items they need to carry in addition to the passengers. They are made from high quality steel and powder coated in black. The bottom surface area is a steel mesh, allowing liquids to flow through while your items remain stationary. From E-Z-Go to Club Cars, you can equip most makes and models with a front basket.
Roof Racks –
Another very popular exterior storage accessory is the roof rack. We offer a large variety for nearly every make and model. They are also great for hunting, hauling, luggage, and camping. They are made from heavy duty steel construction and then powder coated in a deep black that will compliment any cart's color. We don't install very many of these roof racks because they are exceptionally easy to install. Other than some drilling, it's a very straightforward process. Here are a few options we have to offer at Boulevard Carts:
Some of these options also give your cart a more utilitarian appearance, which a lot of times is the moment custom golf cart enthusiasts catch the bug. These accessories are great for hunting, camping, bouncing around the marina, etc. They can be hydro dipped for an even more personalized look.
If you have other questions or you're curious about other storage accessories, don't hesitate to contact us here.