For those who want to customize their golf cart and make it theirs, a personalized cart is always a fun investment. Choosing a wheel and tire combo for your golf cart is one of the most crucial choices you'll make when personalizing your ride.
The performance, comfort, and appearance of your golf cart can all be impacted by the selection of wheels and tires. It's crucial to select the blend that will best suit your unique requirements and preferences.
Considering the Overall Usage of Your Cart
It's important to take your intended use into account when selecting the wheels and tires for your golf cart. If you plan to use your golf cart mostly for leisurely neighborhood riding, you might prefer a setup that offers a smooth ride and decent stability. On the other hand, if you intend to lightly off-road with your golf cart, you could require a combination that provides higher traction and stability. Additionally, you'll need consider wheels and tires that can also support additional weight if you intend to utilize your golf cart to transport heavy cargo, gear, etc.
The Difference Between DOT Approved and Turf Approved
DOT Approved
Tires that have been approved by the DOT (Department of Transportation) for use on public roads must meet specific safety requirements. The DOT establishes requirements for tire performance including, but not limited to, tread depth, traction, and strength. A "DOT" code that denotes compliance with these requirements is molded into the sidewall of tires that have received DOT approval.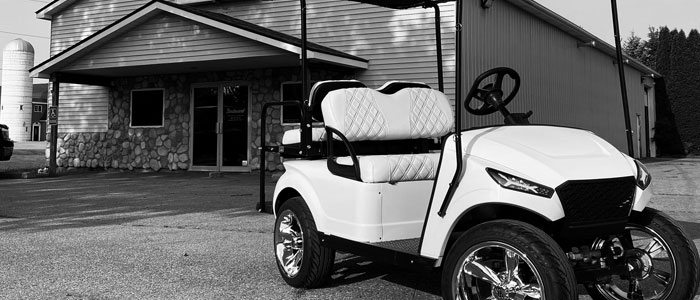 If you intend on hitting the streets in your custom golf cart, make sure your tires satisfy the required safety standards and deliver acceptable performance, it's critical to purchase DOT-approved tires for golf carts that will be driven on public roads. The laws of driving your golf cart on the streets are different throughout The United States – be sure to brush up on those before heading out and joining normal traffic.
Turf Approved
Turf certified tires are tires that have been expressly engineered for usage on turf surfaces like golf courses, parks, inside stadiums (football fields, soccer fields, baseball fields) and other similar turf areas. These tires are often made to cause the least amount of harm to the grass while still offering sufficient traction and stability.
Turf approved tires do not have to adhere to any precise safety requirements in order to be used on public roads, in contrast to DOT approved tires. To ensure minimal damage to the turf and proper performance when selecting tires for a golf cart that will be used mostly on turf surfaces, consider turf approved tires.
Tires: Where the Rubber Meets the Road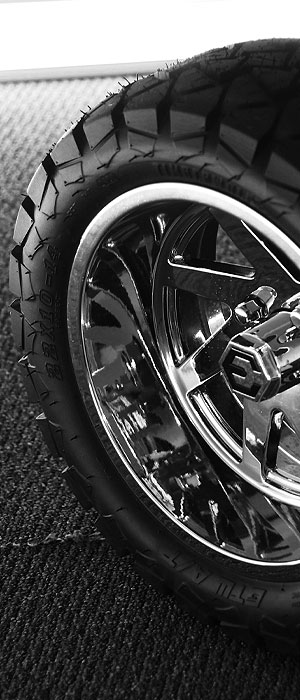 Smooth tires, all-terrain tires, knobby tires, street tires, and sand tires are among the several tire types that can be used on golf carts. Each type of tire has a varied tread pattern and construction and is made for a particular use. All-terrain tires are made for usage on a range of conditions and offer high traction, in contrast smooth tires are best for street use and offer a smooth ride. The finest tires for off-roading are knobby because they offer superior traction in slick and muddy conditions. Street tires are comparable to smooth tires but are made for street use and have a somewhat more aggressive tread pattern. Sand tires offer good flotation in soft sand and are made primarily for use in sandy conditions.
What are the different tread types for golf cart tires?
Smooth Tires
Smooth Tires are best for street use and provide a smooth and quiet ride. They have a minimal tread pattern and are designed for maximum stability and control on pavement.
All Terrain Tires
All Terrain Tires are designed for use on a variety of surfaces, including pavement, gravel, and mud. They have a more aggressive tread pattern than smooth tires and offer better traction in off-road conditions.
Knobby Tires
Knobby Tires are best for off-roading and provide excellent traction in muddy and slippery conditions. They have a deep tread pattern with large, knobby lugs that grip the ground.
Street Tires
Street Tires are similar to smooth tires but have a slightly more aggressive tread pattern and are suitable for street use. They offer a good balance between stability and traction on pavement.
Sand Tires
Sand Tires are designed specifically for use in sandy conditions and offer good flotation in soft sand. They have a wide and shallow tread pattern that helps prevent sinking in soft sand.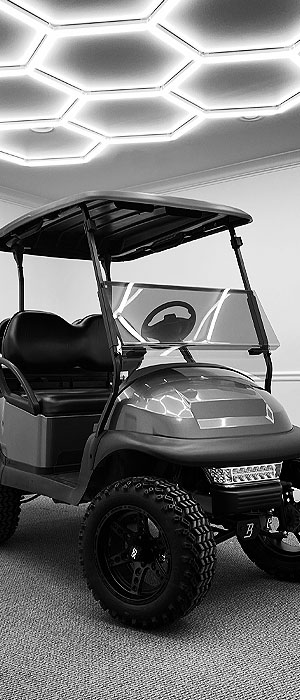 Pro Tip: General Golf Cart Wheel & Tire Maintenance
Maintaining your golf cart wheels and tires will ultimately determine how long they will last. Depending on the amount of use they get, and how hard you ride, tires will last anywhere between 2 and 4 years and wheels can last nearly a lifetime.
If you manage to run into problems with your golf cart wheels and tires, we have a few tips below to help you fix leaks, keep your tires running strong for a longer period of time, and keeping your rims gleaming.
Keep Tires Inflated:
Proper tire inflation is important for ensuring maximum tire life, fuel efficiency, and vehicle performance.
Rotate Tires Regularly:
Regular tire rotation helps distribute wear evenly and extends the life of your tires.
Clean Tires Regularly:
Cleaning your tires helps prevent the buildup of dirt and grime
Clean Wheels Regularly:
Regularly cleaning your custom wheels with soap and water can help remove any dirt or grime that can cause damage over time.
Protect your wheels from the Elements:
Avoid exposing your custom wheels to extreme temperatures and harsh weather conditions, such as salt from winter roads. Keeping them covered when not in use can help protect them.

Check the rollers for damage:
Regularly inspect your custom wheels for any signs of damage, such as cracks, dents, or bent rims. Prompt repair of any damage can help prevent further deterioration and potential safety hazards.
Choosing a Wheel and Tire Combo for your Golf Cart to Express Yourself
Your golf cart's appearance and sense of style can be substantially improved by selecting a unique wheel design. Custom wheels come in a range of styles, from elegant and refined to daring and experimental. They have the power to completely alter the disposition of your golf cart, allowing it to stand out from the crowd and show your unique individuality. Choosing a wheel and tire combo for your golf cart not only enhance your golf cart's cosmetic appeal, but they can also increase its performance.
Your golf cart's unique paint job or vinyl wrap and custom wheels can work together to create a polished and unified appearance. (Read: Golf Cart Makeover: Paint vs. Wrap – Which is Right for You?) Custom wheels can be the ideal final touch for your custom golf cart, whether you choose a striking color to go with your custom paint or a slick design to make a statement. Your golf cart will draw attention on the course or on the road thanks to the mix of custom paint and custom wheels.