As most of you know, there are two types of golf carts – Gas powered golf carts and Electric powered golf carts. We are going to focus more on the electric side of things and have a better understanding when charging your custom golf cart. Although, before you can charge your golf cart batteries, you need to understand which batteries are available, how they work, power / voltage supply, and pricing.
Battery Category
Today, batteries are either Lithium-Ion, Flooded Lead-Acid (aka FLA – Traditional golf cart battery), or AGM. These batteries offer unique advantages over one another and you need to understand this. The basic difference between these batteries is that the Lithium-Ion battery does not require fluid (dry cell) while the lead-acid battery requires fluid (wet cell). This typically makes the lead-acid battery larger and heavier in size. If your goal is to replace a former custom golf cart battery, then try to go for the same one you are taking out. AGM Batteries, we'll go into detail later, are the balance between Lithium-Ion and Lead-Acid.
Charging Speed
How fast your battery charges should matter, especially when you frequently use your custom golf cart. You want your golf cart ready to go in the shortest time. This speed also varies with the type of battery. An average lithium-ion battery takes three hours to charge fully, while a lead-acid battery could take up to eight hours.
Voltage Supply
Every custom golf cart has the required power needed to propel it properly. Failure to provide this power could drain your battery quickly or lead to poor performance of the cart in motion. Generally, the voltage of golf cart batteries starts from 4 volts up to 12 volts, and it could even be more.
Pricing
Many factors affect the price, but the most significant is the level of innovative technologies packed into the battery. For example, the weight of a battery should be as little as possible without compromising the performance. To achieve such a feat, modern technologies have to be brought on board, and this will eventually affect the price. Often, expensive custom golf cart batteries have justification for such high prices. The material used to construct the battery's body would also affect the price.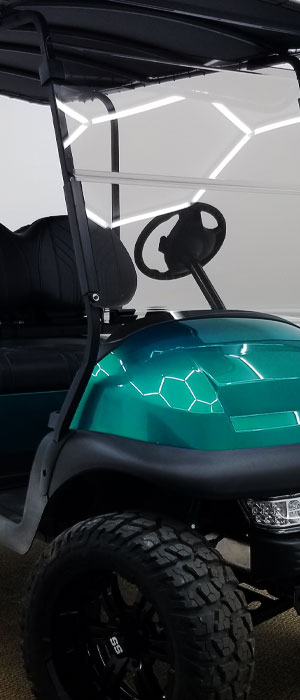 General Golf Cart Battery Maintenance
The batteries are the brains of your custom electric golf cart and must be properly maintained in order for your cart to run smoothly and prolong its lifespan. Unkempt batteries are the most frequent source of problems for electric golf carts. Therefore, it is highly recommended that regular inspections and tests be done on your cart's batteries to ensure they are in tip-top shape!
The three most common types of batteries used in electric golf carts are Flooded Lead-Acid, Lithium-Ion, and AGM Batteries.
Flooded Lead-Acid Batteries are comprised of two cells with lead and lead oxide. This solution's chemical reaction creates an electrical current as a result of maintaining the water and sulfuric acid solution.
Flooded lead-acid batteries are cost effective for electric carts and they are the most intense because you need to keep them topped off with distilled water.
Distilled water is used because it's pure. You can also use reverse osmosis, but the important thing to remember is contaminants like salts don't find their way into the battery. A chemical reaction is what creates the power within the battery. The contact contact between the lead plate and the acid is where the magic happens. Flooded Lead-Acid batteries, because they are serviceable, have ports on top and as a result the water evaporates. This is why you need to keep them topped off.
Check your batteries every two weeks in a moderate to hot climate. During the winter, we recommend to our Michigan clients to check their batteries every three to four weeks. Regular use in climates such as Florida or Arizona it can be as often as a week. You can tell when need to be refilled, but you do need to understand what you're doing. If you're planning to service your batteries yourself, understand that you're handling acid and it can be dangerous if not handled with care.
Because you're dealing with acid, terminals, lead plates, and lead terminals on the actual battery. A lot of times your using copper ended wires. The acid will react with the copper; creating corrosion over time and needs to be maintained and cleaned.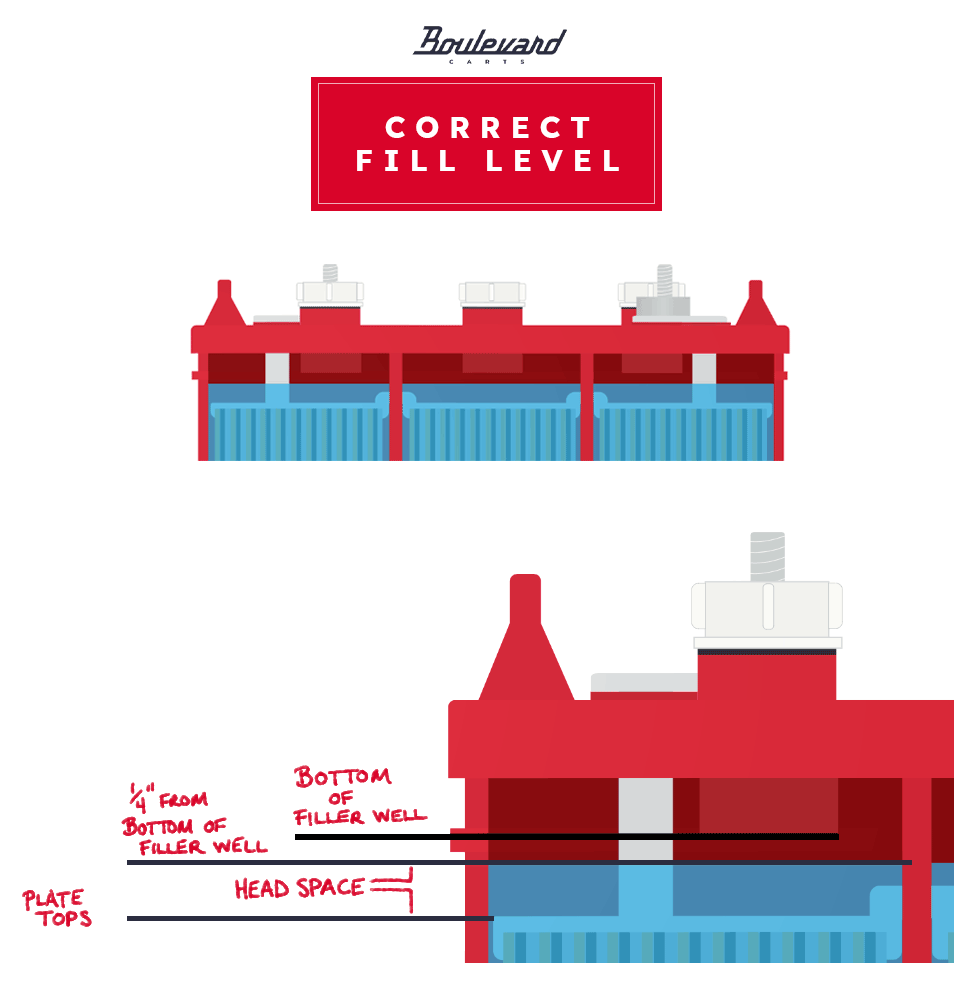 TIPS –
Charger connector is firmly connected
Check connections for dirt and frayed wires
Read your battery charger manual
Check that the lead plates are submerged in water
Try to charge after each use
Check that all vent caps are secure
Lithium-Ion Batteries
They have become the preferred choice. Made up of cells in which during the charging cycle, ions move back and forth between the negative and positive electrodes. When ions reach the positive electrodes, that's when the energy is produced.
Lithium-ion batteries allow for prolonged use in between charges and unlike flooded lead acid batteries they are free from any fluids, which require less maintenance and monitoring. The beauty of Lithium-Ion Batteries is that they're maintenance free. The complete opposite of a Flooded Lead-Acid Battery.
You have a specific charger with the lithium battery. Generally, it comes with the kit that is programmed to charge the battery correctly. They have faster charging and longer run times because you can actually discharge a lithium battery completely without physically damaging the battery. This is great for owners who want a more hands off experience.
CONS:

1.) Upfront Costs – They are costly, but as mentioned before, they are maintenance free. It's like charging your cellphone or laptop.

2.) Cold weather use – Lithium-Ion batteries can not take a charge when it's core is around 35 degrees. There are companies that offer heated lithium batteries for owners living and utilizing their carts during the winter months in the north.
From our experience the Eco Lithium Batteries are the best. They have a great BMS (Battery Management System) that regulates the rate of charge and takes into account the battery's internal and external temperatures, maintenance free, and 8-Year Warranty.
AGM Batteries (Absorbent Glass Mats) are very similar to a Flooded Lead-Acid Batteries, but they don't have free-flowing acid inside the cells. glass mats are packed between the plates so realistically you get more plates in an AGM Battery, which means longer run time and/or power. They are sealed like a lithium-ion battery so there's no maintenance.
The new ICON Carts we offer have the AC Motor, a good controller, and AGM Batteries. Customers don't have to worry about maintaining them, which is a huge benefit. You'll find the pricing roughly 20% more than Flooded Lead-Acid Batteries, maintenance free for the lifetime, and come with a 2-Year Warranty.
BREAKING IN YOUR GOLF CART BATTERY
Most places won't tell you or they just don't know that Flooded Lead-Acid Batteries and AGM Batteries have a crucial break-in period. Fortunately, the process to follow is the same because Lead-Acid & AGM Batteries utilize the same technology more or less. Following the break-in process is important during the break-in period because it will significantly improve the longevity of your battery's life.
Instructions: You need to keep the battery pack around 75% state of charge or above for the first 15 to 20 cycles. Meaning, you use your cart, drain the battery to 75%. Then put the cart on it's charger and allowing the charger to run a complete charge until it shuts off.
Once you've done this, you can drain the battery down to 50%; and if it goes lower because it's one of those days where your carting passengers around – it happens. It's not the end of the world, just don't make a habit of it.
Results: The performance of your batteries will be greater, top speed will be improved, charge faster, and discharge slower.
Charging your Golf Cart Battery After Each Use
As many of you may have already heard at some point in your life, batteries have a memory. For the most part, it's true and there are things to keep in mind if considering charging your custom golf cart batteries after each use.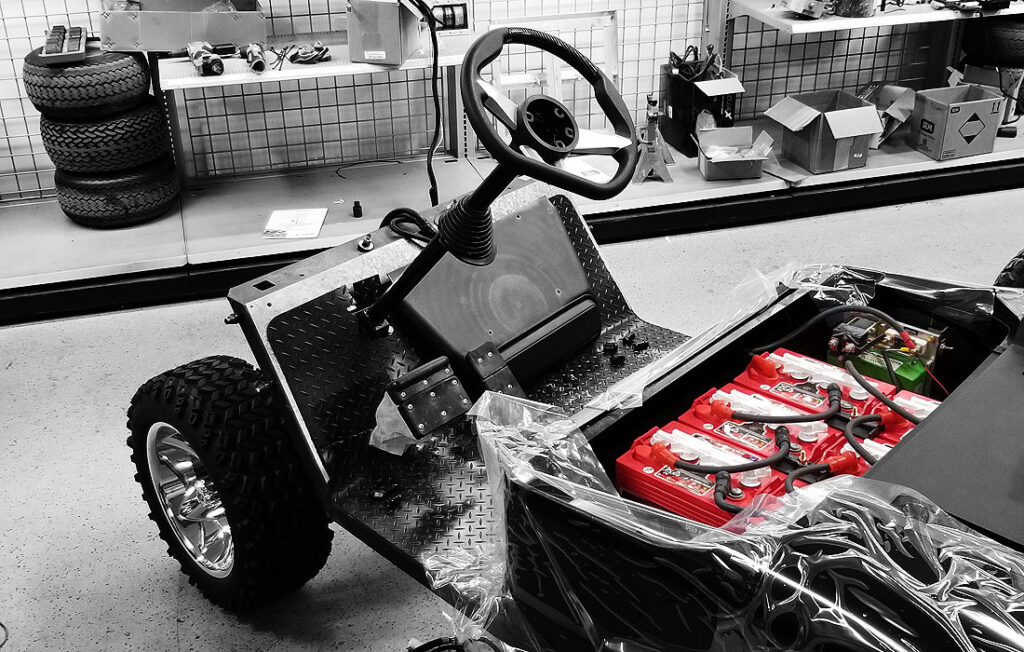 If you own a mid-90's golf cart and up, there is no problem charging your custom golf cart batteries after each use. In the mid-90's battery chargers started incorporating automatic sensors that recognizes when the battery is full. Once full, the charger stops sending energy.
Here are a couple of scenarios that perhaps you can relate with:
EXAMPLE 1:

Let's say you have a long driveway or your mailbox is down the street, so you decide to use your golf cart. We say, "Charge it!" No harm, no foul.
EXAMPLE 2:

If you use your custom golf cart around a campground and you run to the camp-store and back, but you anticipate using it more that day – keep using it. Watch your meter and charge when necessary. If you need a meter, they're very cost effective and really offer a piece of mind.
Attention: Many old carts do come equipped with a battery meter or a good way to tell where your levels are.
With Flooded Lead-Acid or AGM Batteries you need to keep your custom golf cart charged above 50% (48.4 volts). If you fall below that point, it does begin to degrade the battery and shortening your battery's life and if you continue these habits you will be purchasing new batteries much sooner.
Partial Charges – When you're in a bind…okay, but otherwise throw your golf cart on the charger when you're finished for the day and let the charger run it's own charger cycle.
Performance Golf Cart Batteries vs. Normal Golf Cart Batteries
Are you the go-fast type of driver or do you prefer to squeeze as many miles out of your batteries range? Performance batteries require different attention than your run-of-the-mill standardized batteries.
Basically, if you want to go fast, the main factor you want to keep an eye out for a battery with a high discharge rate. You'll need a lot of amps all at once and then continuously for as long as you want to run. If you want to do wheelies, you'll go through batteries extremely fast and typically you'll get this performance from a Lithium-Ion battery. But! Your fun will be cut short because of the Lithium-Ion's BMS is programmed to shut down so that you don't damage the battery.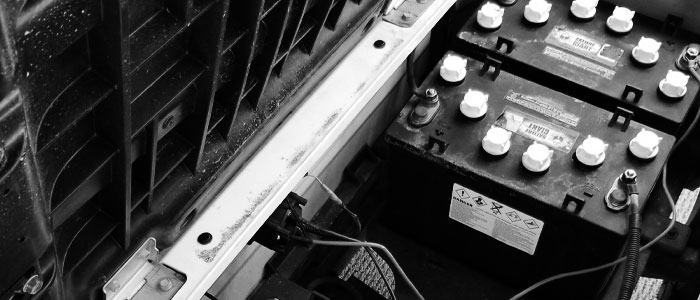 Performance with Flooded Lead-Acid – The weight is dramatically different from Lithium-Ion. You're looking at roughly 65lbs. per battery and at 6 batteries on board, that's nearly 400lbs.! It will be much more difficult to do a wheelie or reach top speeds as quick.
When discussing performance, you're talking volts. Majority, if not all standard golf cart battery setups run at 48 volts. If you want any sort of significant performance-added, you need to be in the range of 72+ volts to get some good torque.
If you have questions about charging your custom golf cart, feel free to contact us: info@boulevardcarts.com.