As you know, golf carts are a popular mode of transportation for those who enjoy spending time with friends when hitting the links or in planned communities. They are also a popular choice for people who need a small mode of transportation for running simple errands or commuting short distances. While golf carts are practical and useful, many people also want to make them more personalized and stylish. One question that many golf cart owners ask us is whether they should paint or wrap their golf cart. In this article, we will explore the benefits of both options to help you decide which is the best choice for you.
Paint is the traditional method of changing the color of a golf cart. It involves sanding down the existing finish, applying primer, and then applying several layers of paint. While paint can give a golf cart a sleek and professional look, it also has its drawbacks. One disadvantage of painting a golf cart is that it can be expensive, especially if you want a high-quality finish – which most do. Additionally, the paint can peel or fade over time if not maintained well, requiring touch-ups or a complete repaint.
On the other hand, wrapping a golf cart involves covering it with a vinyl film that can be printed with any design or color. Wrapping a golf cart has become a popular alternative to painting because it is more cost-effective and allows for more creativity and customization. However, it is important to note that vinyl wrap films are not as durable as paint and may need to be replaced more frequently.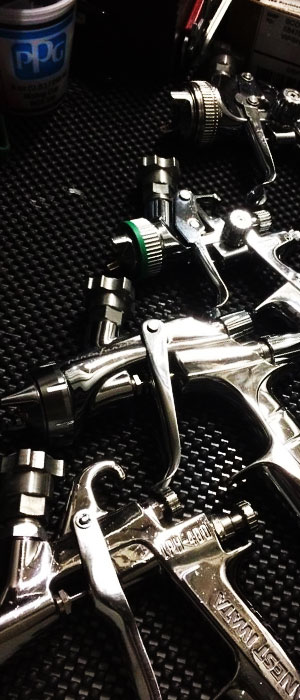 The Benefits of Painting your Golf Cart
Durability: One of the main benefits of painting a golf cart is that its a more durable option. High-quality paint applied by professionals like us can last for several years without peeling or fading. This makes it a good choice for those who want a long-lasting finish on their golf cart.

Professional appearance: Another benefit of painting a golf cart is that it can give the vehicle a professional, sleek appearance. A well-done paint job can make a golf cart look brand new and can even increase its resale value.

Customization: While wrap films come in a variety of colors and designs, painting a golf cart allows for even more customization. With paint, you can choose any color or finish, such as a metallic or matte finish. This allows you to truly personalize your golf cart and make it stand out.
The Benefits of Vinyl Wrapping your Golf Cart
Cost-effective: One of the main benefits of wrapping a golf cart is that it is a more cost-effective option compared to painting. Wrap films are generally cheaper than paint, and the cost of labor is also typically lower because the amount of time to prepare and application. In a perfect world you could pickup your golf cart the same day.

Easy to change: Another advantage of wrapping a golf cart is that it is easy to change the look of your golf cart. If you get tired of the current color or design, all you have to do is remove the old wrap and apply a new one. This is much easier and less expensive than repainting the entire golf cart.

Customization: Wrapping a golf cart allows for a high level of customization. Wrap films come in a wide range of colors and designs, so you can choose a wrap that matches your personal style. Additionally, you can even have a custom wrap made with your own design or logo. This allows you to truly make your golf cart your own. This is especially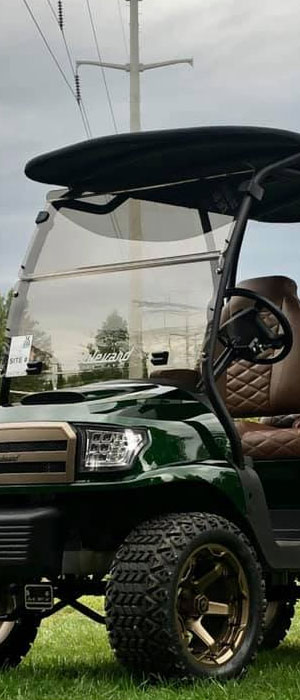 Combining Custom Paint and Vinyl Wrap with your Golf Cart
A thin polyurethane or polyvinyl chloride (PVC) film also known as Clear Protective Vinyl Wrap is put to the outside of a car to protect the paint job and add gloss. On brand-new automobiles, it is frequently used to shield the paint from debris, dings, and deterioration while in storage and transit. It can also be used on pre-owned vehicles to create a glossy appearance and protect the paint from normal wear and tear. This trend is beginning to transition to the custom golf cart scene as the values of golf carts are increasing.
The advantages of a clear protective vinyl wrap are numerous. It offers a layer of protection for the paint job, which is one of the key benefits. It serves as a shield between the paint and the outside elements, assisting in avoiding scratches, chips, and fading brought on by UV rays and other environmental variables. This can keep the car looking new for longer and help maintain its value.
The clear protective vinyl wrap's ease of application and removal is an additional advantage. A heat gun or hairdryer can be used to smooth out any creases or bubbles in the wrap once it has been precisely cut to meet the vehicle's specifications. By heating the wrap and pulling it off, it may also be removed with ease. Thus, you can safeguard your paint job without committing to a long-term modification.
Another inexpensive approach to safeguard your paint job is using a clear protective vinyl wrap. In general, it is less expensive and simpler to maintain than obtaining a full paint job or installing ceramic coatings. Like the paint, the wrap can be washed, waxed, and any blemishes can be polished off with a polisher.
Overall, a clear protective vinyl wrap is a terrific way to provide a glossy finish and protect your custom golf cart's paint job. It is affordable, simple to apply, and simple to take off. Clear protective vinyl wrap is a wise choice if you want to maintain your car's value high and keep it looking great.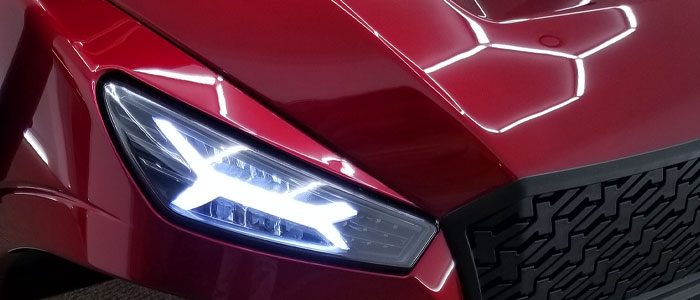 In conclusion, it's simply up to you whether you decide on Paint, Vinyl Wrap, or even both. If you have questions about the costs of these services, feel free to contact us. We're always excited to talk to fellow custom golf cart enthusiasts wanting to further personalize their carts to compliment their style.