Customizing a golf cart in Michigan, or anywhere for that matter, can be a fun hobby and a rewarding project, but it's important to be aware of the costs involved before getting started. In this article, we'll take a detailed look at the costs of customizing a golf cart and help you understand what to expect as you plan your project.
If you're just entering the scene and you're still a bit green, let's define what we mean by "customizing" a golf cart. Customizing a golf cart can refer to a wide range of modifications, from simple cosmetic changes like adding a new paint job / vinyl wrap or custom wheels, to more extensive upgrades like installing a new engine, performance battery, or adding features like a sound system or GPS navigation. Some customizations are purely for aesthetics, while others can enhance the performance or functionality of the golf cart.
Project Scope and Product Qualities
One of the main factors that will influence the cost of customizing a golf cart is the scope of the project. A simple paint job and new set of wheels may only cost a few hundred dollars, while a more extensive project that involves upgrading the engine or adding new features could cost several thousand dollars.
Another factor to consider is the quality of the parts and materials you use. Higher-quality parts and materials will generally cost more, but they may also provide better performance and durability. For example, upgrading to a high-performance engine may cost more upfront, but it could also improve the performance and efficiency of the golf cart.
If you plan to purchase parts, it's usually better to purchase from an authorized dealer. There's a 100% guarantee that you will find parts and accessories available on Amazon or eBay with better prices, but the build quality and fitment of these products can sometimes be questionable. We recommend shopping for products with people you trust and someone you can physically call and speak to over the phone. If you need a question answered, we're available to you Monday through Saturday between 9am and 6pm most days.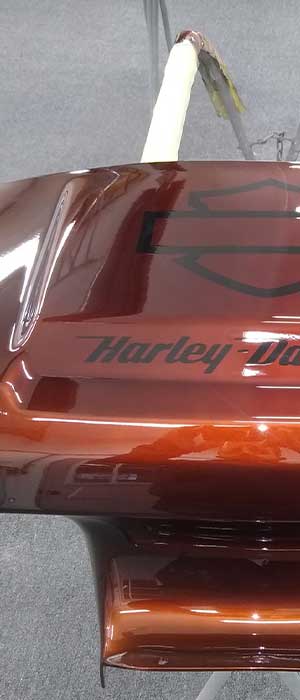 Labor Costs and Affordable Golf Cart Modifications
Labor rates can also be a factor in the overall cost of customizing a golf cart. If you have the skills and tools to do the work yourself, it's obvious you can save a lot of money on labor costs. However, if you're not comfortable working on a golf cart, or if you don't have the necessary tools and equipment, you'll want to find an experienced golf cart service center that guarantees it's work like Boulevard Carts. Be sure to do a little research – check out their social media feeds, Google Reviews, etc. This is important because depending on what you're interested having customized on your golf cart, it can add up quick if you're planning on making more extensive modifications.
One of the simplest and most affordable ways to customize a golf cart is to add new paint and custom wheels. A new paint job can give your golf cart a completely new personalized look, and custom wheels can add a touch of style and improve the performance of the cart. These modifications can be done relatively inexpensively, with a new paint job costing a [few hundred dollars] and a custom wheel and tire package costing anywhere from a few hundred to a few thousand dollars, depending on the style, quality, and size of the wheels. If you want to build your own wheels and tire package, use our Wheel & Tire Package Builder – click here. Choose from a one of the largest inventory of only the most popular wheels and tires in the market today.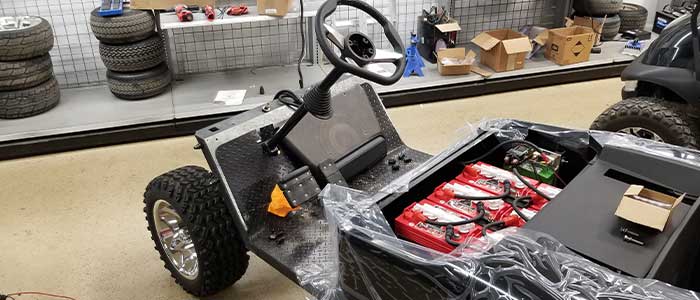 Extensive Golf Cart Modifications and Maintainenece
If you want to make more extensive modifications to your golf cart, such as upgrading the engine or adding new features like a sound system, suspension lift kits and security systems, the costs can quickly add up but are well worth it. Upgrading to a higher-performance battery can cost [input amount] dollars, and lifting your cart can run between [price range] with service included. In addition, these types of modifications can be more complex and may require (we recommend) professional installation, which can add to the overall cost. We add lift kits and tune ClubCar, ICON, Yamaha, and E-Z Go carts on a regular basis. If you want to go fast or improve your carts utility, we're only a message away.
With any vehicle you own, whether it's your daily driver or a motorcycle or even your lawn mower, there's one thing they all need – Maintenance. Scheduling a service with your local service center once every 12 months is encouraged. Having your golf cart serviced by a professional will help find issues with your golf cart that you perhaps you may have overlooked.
No matter how much of an emphasis you put on golf cart maintenance, there are going to be certain things you forget to check. There are also going to be larger service jobs that you don't have the time to tackle on your own. This is why we suggest to all of our clients to leave the tedious routine maintenance to us. We recognize potential issues and important fixes quick and can address them efficiently. (more maintenance information)
If you need us to maintenance your golf cart, we do ask that you make an appointment with us in advance, as our schedule fills up quick.
As you can see, the costs of customizing a golf cart can vary widely depending on the scope of the project and the quality of the parts and materials you use. A simple paint job and new set of wheels may only cost a few hundred dollars, while more extensive modifications like upgrading the engine or adding new features can cost several thousand dollars. It's important to carefully consider your budget and the modifications you want to make before starting your project, to ensure that you can afford to complete it and get the results you want.