As you can imagine, when you own just about anything of significance, there are costs involved. Whether it's a home, boat, car, RV, and yes…even a golf cart. From time to time I'll receive an email or a message on Instagram about what a custom golf cart costs. Sometimes it about a specific unit I have in stock to purchase, but mostly it's from new custom golf cart enthusiasts looking to get into the hobby and trying to understand what to factor into their budget. This is completely understandable.
It's important to remember, surprises can always occur, but you can dramatically reduce the chances of these surprises from happening by properly caring for your custom golf cart. This way when family, friends, or clients are on board, you can commute with a peace of mind.
We're going to go over annual maintenance checks that you can perform even if you're a novice! The following Maintenance Tips can all be performed in a single day / service appointment or throughout the year at your convenience. I've prepared a PDF (click here) that you can print out and hang in the garage for a quick reminder – Think of it as a checklist. You're welcome.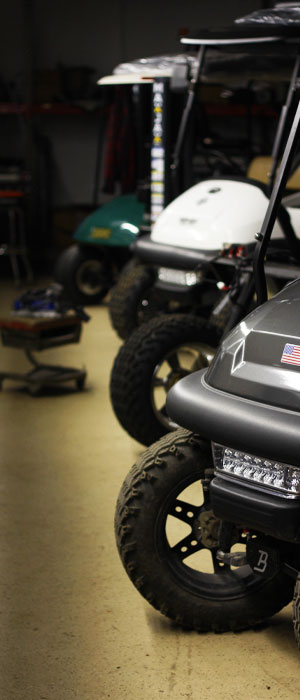 General Maintenance
1. Charge Your Batteries When Your Golf Cart Isn't In Use
The best part about a custom electric golf cart is that it's great for the environment, silent, and for the most part significantly easier on the wallet.
Proper charging is critical to maximize your battery's capacity and longevity. Both under or over charging a battery can dramatically reduce the life of your battery.
Depending on the type of battery you are charging, be sure your charger is set to the appropriate program for deep-cycle. Lead-acid batteries (deep-cycle) do not have a memory effect and do not need to be fully discharged before recharging. (Article: Charging your Custom Golf Cart)
2. Watering your Battery, Checking the Water Levels
The chemical reaction inside the battery is converted into electrical energy by oxidation and reduction, but none of it would be possible without good ol' H2O.
Important: Fully charge your batteries prior to adding the distilled water.
The water levels in deep-cycle batteries should be checked regularly, and depending where you live – more frequently than others. For instance, we recommend checking bi-weekly or maximum once per month (every 15-30 days).
Once your battery / batteries are charged, disconnect, and check levels by removing caps and peering into the battery. Water level should be roughly .25 inches from the bottom edge of the fill hole.
3. Keep Your Battery Connections Clean
As I mentioned before, there will be a few items on this list that can be performed all at the same time.
Should you have any corrosion or dirt coating the connections within your golf cart batteries; create a solution using baking soda and waster and clean them. It'll help you maintain proper connections within your batteries so that they charge correctly.
4. Check Your Tire Pressure
Inspecting your tires and checking their air pressure every other week or so. If you notice that the air pressure is low, fill your tires up with air right away.
This is a great preventative measure from unusual tire-wear and because the tires connect with the surface correctly, it will provide additional longevity to the life of your tires. Not to mention, your cart's ride quality will be improved.
5. Annual Brake Inspection
As a rule of thumb, your brakes should be inspected (at minimum) on a yearly basis. Go-fast owners will need more frequent maintenance than your average neighborhood cruiser. But it's important to remind yourself to check your brakes annually. From your brake pads, cables, and drums – each require inspection and perhaps an adjustment so that they continue working correctly. This is considered a safety check and is essential, so don't let this one go overlooked.
Don't worry if you don't know how to perform a routine brake inspection or brake service. We've got your back. Setup an appointment with us and we'll get that taken care of for you. We provide pickup and drop-off services, if needed.
6. Keep an Eye Out for Oil Leaks
Have you ever found oil on your garage floor after moving your cart? The rear differential could be busting your chops.
If you ever see this, slide underneath and check if there's oil built up on the rear diff. This could be or lead to a big problem.
Oil leaks should be looked at immediately to avoid serious damage to your custom cart.
7. Professional Service Every 12 Months
Schedule a service with us once every 12 months. Servicing your golf cart by a professional will help find issues with your golf cart that you perhaps you may have overlooked.
No matter how much of an emphasis you put on golf cart maintenance, there are going to be certain things you forget to check on golf carts. There are also going to be larger service jobs that you don't have the time to tackle on your own.
We do ask that you make an appointment with us in advance, as our schedule fills up quick.
---
Paying at the Plug or Pump
When deciding to purchase a New or Pre-Owned Custom Golf Cart, you have to keep in mind that the costs of keeping that tank full or battery topped-off will be different, but there are other factors to be mindful of. We'll go over these together.
Electric carts are eco-friendly, cool on noise pollution, and cost effective on the wallet when it comes to recharging. Before we can discuss the costs of charging, we need to understand that lead acid batteries are not cheap – let's just get that out of the way. Anticipate, shooting from the hip, to supply your cart with enough power to move and entertain will run you $900 to $1500 for carts running 6 batteries.
That's a pretty big expense up front, but understand that with proper maintenance and charging practices, your batteries can last between 6-8 years. Now, let's get into the costs of charging up those big ol' batteries. A simple equation can be used to calculate the estimated costs, but the results will range depending on each driver's usage.
We use a 120v charger in our shop, which means it will pull about 10-12 amps from your home or shop's power circuit. Most households have 15 or 20 amp power circuits – so you'll be fine. You're home is ready to go – Nothing special to implement – just plug your charger into the wall socket. This is not like owning a Tesla.
Here is a quick formula for you to use…
COST OF ENERGY
Now, each state has a different average cost for energy, so because we're nice here is a quick reference map to find your kwh rate. (Click Here) In Michigan, as of 2021, we pay 17.79 cents/kwh.
It takes about 8 hours to charge a deeply depleted cart, but each cart's battery setup will calculate differently considering the charger you use may be different and the age of the batteries and their condition play a role in the recharge duration. But 8 hours is a safe number to work with.
8 Hours ÷ $0.1779 = $1.43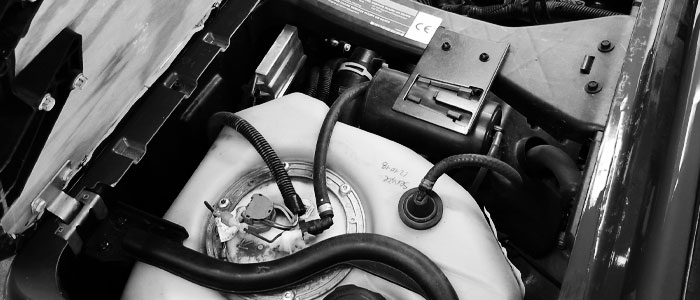 Owning a custom gas golf cart will be slightly different. Rather than spending up to $1,500 in batteries up front, you'll be responsible to pay at the pump. Fuel tanks range from 5-6 gallons and roughly get 35-40mpg (175-240 miles per tank).
January 2021 – 6 Gallon Tank × Michigan (3.20/gal.) = $19.20/tank
How often will you be driving your custom Boulevard Cart? That's what will make the difference over time.
An Electric Golf Cart could cost you as little as $9.30/mo. (cost of batteries over 8 years) + Recharge Costs (30 miles per charge), whereas a Gas Golf Cart will run you $19.20/tank (175 to 240 miles).
If both drivers drive 300 miles/mo. (which is a lot of driving, but some know how to party) in Michigan:
Electric = $23.60 | Gas = $24